Art Glass
Tabletop
Artists' Statement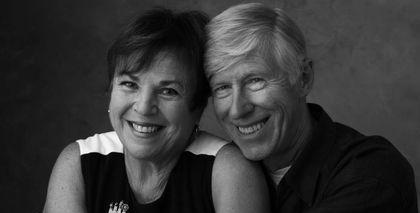 Partners in life for over four decades, Don and Ellen Ljung find their skills and style to be complementary in their work with glass. They have a studio in their home with three kilns. They work collaboratively, and Ellen's expertise in color is matched by Don's expertise with the kilns as they experiment with new ways to design with glass. Together they create serving pieces, art panels, and wall art using the brilliant colors and wide range of light diffusion and reflection of glass. Fusing glass allows Don and Ellen to explore the attributes of natural elements, combining color, shape, and texture in unusual ways. Although they use a wide range of colors, their work tends to feature the rich blues and greens they see in wilderness kayaking and the rich hues of fall foliage. Always seeking new visions for materials and design, they employ inclusions of dichroic glass, metals, handmade frit, pattern bars, and glass swirls made over a torch, as well as sandblasting, to distinguish their pieces. Their international travel and frequent visits to art museums have shaped their design aesthetic.
Resume:
Sculpture Class at College of DuPage
Glass fusing classes at Fine Line and Ed Hoy
Two-week casting workshop at Corning Glass in New York
First Place in Glass, Stone Arch Festival of the Arts [Minneapolis], 2009
Award of Merit, Prairie Sculpture Show, Illinois. 2017 Geneva Fine Arts Fair
Shows include Arts & Apples Fine Art Show, Lakeview East Festival of the Art, Gold Coast Art Show, Wells Street Art Festival, and other Illinois shows
Commissions, including glass insets for sculptor Guy Bellaver for his sculpture for the two-story atrium of the new science building at St. Vincent College in Pennsylvania, and large art panels for private collectors.
Featured artists for Geneva Cultural Commission's Eat Your Art Out, February 2014, and Art in The Park, May 2017.
Represented by art galleries and boutiques in New York, Wisconsin, New Mexico, and Illinois, including the Leigh Gallery in Chicago and the Skidmore Gallery in Galena, IL.